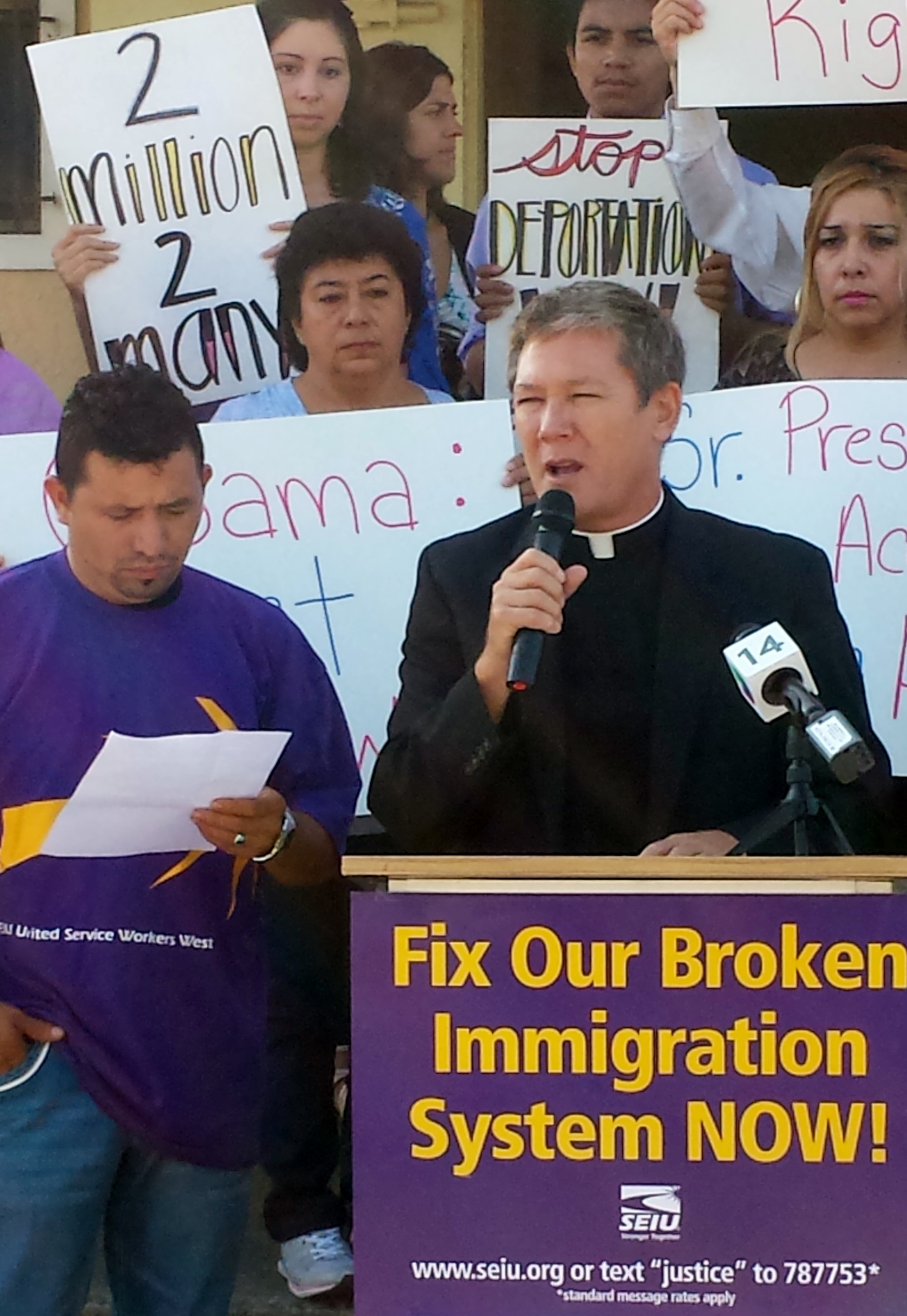 San Jose, CA -- On Friday, September 12th, member organizations of the Santa Clara County Coalition for Comprehensive Immigration Reform - comprised of immigrant rights, civil rights, community, youth, labor, and faith-based organizations, held a press conference in response to President Obama's recent announcement that he would delay executive action on immigration policy until sometime after the November mid-term elections.
Dozens gathered in front of McDonnell Hall at Our Lady of Guadalupe Church in East San Jose to call on President Obama to keep his promise of taking executive action and protecting immigrant families from deportation. Community members voiced their anger and frustration towards the President and Members of Congress for playing political games with immigrant communities, and spoke of the impact this delay will have on immigrant workers and families. A recent recipient of the President's 2012 Deferred Action for Childhood Arrivals (DACA) executive order, Adan Lupercio, shared how administrative relief changed his life and what it could mean if it were expanded to include his parents, older siblings, and many more who could benefit from it.
The President's announcement comes as a huge disappointment for millions of aspiring Americans who live in fear of being separated from their families and the lives they have built here. With Congress refusing to act on much needed comprehensive immigration reform, this delay will only continue the high price millions of individuals will pay because of a broken immigration system.
Organizers committed to mobilizing immigrant voters and continuing to fight for policies that allow aspiring Americans to live fully and freely in this country. Latino and Asian American voters make up the fastest growing part of the American electorate and they vowed to flex their political muscle and show that their presence at the ballot box is a force to be reckoned with.
Speakers
Welcome/Coalition Reaction: Richard Konda, Executive Director, Asian Law Alliance
"It is safe to say we are deeply disappointed -- even angry -- that he has said time and time again that he is committed to immigrant families and that he would use his executive authority to bring them relief when Congress failed to act, yet he has decided not to take action as he previously promised. The President is bowing to the pressure of those who fear that taking a stand will impact their chances of reelection in November." - Richard Konda
Moral Imperative for Immigration Reform/Executive Action: Father Jon Pedigo, Our Lady of Guadalupe Parish
"President Obama's decision to delay action on administrative relief may put certain members of Congress at ease, but it provides no comfort to the millions of hardworking people who will continue to live in fear of being torn from their families by our broken immigration system. This delay will have tragic consequences for the fathers, mothers, sons and daughters who will be ripped from one another's arms in the coming weeks and months. A delay of weeks may not seem like a lot to a politician in DC, but it is everything to a child who will lose his or her parents in that time." - Father Jon Pedigo
Impact on Families: Soledad Tellez, Community Leader, Sacred Heart Community Services
"Primero cuando el presidente dijo que iba tomar accion me dio gusto por que es un alivio y una esperanza. Ahora escuché que no, no iba poder hacer nada, ahi es donde dices por que hace eso? Nadamas esta jugando con nostoros."
(translation) "First, when the president said he would take action, that gave me some relief and hope. Now I heard that he is not going to do anything, that's where it makes us say "what"? He is just playing with us." -Soledad Tellez
Impact on Workers: Jesus Solorio, Member, SEIU-USWW
"Lo que no sabe el presidente es que tan difícil es vivir, manejar, ir de compras, llevar los niños a la escuela, salir a pasear, salir a lavar la ropa, cualquier cosa es difícil cuando uno no sabe si le espera ICE a separarle de sus hijos y familia como a tantos miles más les ha pasado."
(translation) "What the president doesn't know is how difficult it is to live, drive, shop, take your children to school, go for a walk, go to the laundromat -- anything is difficult when one does not know if ICE is around to separate them from their children and family as it has happened to so many thousands more." -Jesus Solorio

Impact of Administrative Relief Adan Lupercio, DACA Recipient
Next Steps/Civic Engagement: Priya Murthy, Policy & Organizing Program Director, Services, Immigrant Rights, and Education Network (SIREN)
"Latino and Asian American voters make up the fastest growing part of the American electorate – we will flex our political muscle and show that our presence at the ballot box is a force to be reckoned with. We must remember that it was through robust civic participation that we have defeated anti-immigrant policies in the past and secured victories like the DACA program." - Priya Murthy
###
The Santa Clara County Coalition for Comprehensive Immigration Reform is comprised of immigrant rights advocates, community organizers, service providers and labor organizations coming together in support of comprehensive immigration reform legislation that includes a roadmap to citizenship, worker protections and family unity.